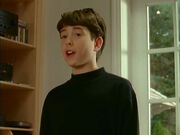 Andrew Sardella (born Andrew David Sardella on January 5, 1984 in Toronto, Ontario, Canada) is a Canadian former actor.
He has appeared in televisions shows such as, "Are You Afraid of the Dark?", "Goosebumps" and "Street Legal". He also appeared in the films, "Searching For Bobby Fischer", "Beyond the Call" and "SSHHH".
He played Prince Michael (Mickey) in the Shining Time Station Family Special, Queen for a Day.
Trivia
He, Jared Wall, Erica Luttrell, Jayne Eastwood, Eric Fink, Bucky Hill, Neil Crone, Michael Polley and Colin Fox all had roles in "Goosebumps".
He and William Colgate appeared in the 1993 film, "Searching for Bobby Fisher".
He and Eric Fink both had roles in "Are You Afraid of the Dark?".
He, Ron Gabriel, Larry Reynolds, Tom Jackson, Colin Fox, David Hewlett, William Colgate, Larissa Laskin, Jayne Eastwood, Ardon Bess, Peter Van Wart, Peter Wildman, Kevin Frank, Barbara Hamilton, Elizabeth Hanna, Chantellese Kent, Susan Stackhouse, Judy Marshak, Marium Carvell, Lori Hallier, Colm Feore, Colin O'Meara, Eric Fink and Doug Lennox all had roles in "Street Legal".
He, Ari Magder, Erica Luttrell and Eric Fink all had roles in "Bookmice".