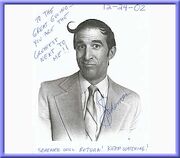 Brian O'Connor (born Brian Edward O'Connor on February 14, 1953 in Lynnfield, Massachusetts, USA) is a former American actor and comedian. He is currently a composer, musican and a certified school guiadance counselor who is best known for playing the role of Horace Schemer on Shining Time Station. He also played Jebediah Schemer.
Rick Siggelkow stated in an SiF interview that O'Connor worked very hard when it came to the show and that he would often come up with ideas to be put in it. Schemer's distinctive curl and nickel obsession are two examples. He also was credited for "additional material by".
Trivia
O'Connor was a member of the comedy troupe "Slap Happy" and appeared with the group on HBO's Young Comedians Show.
He has also had several film roles, the most prominant, Beverly Hills Cop 2. He also appeared on Miami Vice in the 1986 episode Baby Blues as Alex Kaplan/José Daniel Escobar and was credited as Brian Brucker O'Connor.
He still makes public appearances as the Schemer character even after the show's end in the mid 90's.
He has a daughter named Sally.
His ex-wife is actress Jane Brucker who played the character of Lisa Houseman in Dirty Dancing.
On April 13th, 2009, Brian was remarried to a woman named Laura Benko. They now reside in Los Angeles, California.
He is a member of a music group called The 6660s.
Gallery
Community content is available under
CC-BY-SA
unless otherwise noted.