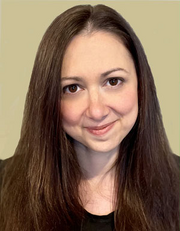 Danielle Marcot (born on July 3, 1983) is a former American child actress who played Becky in Shining Time Station.
She has also appeared in the television movie "Necessary Parties" and the television series "Working It Out". After the show Shining Time Station went off the air and after the family specials aired, Danielle retired from acting.
Trivia
She appeared in the most episodes of the five main child actors, appearing in forty-three out of sixty-five. The second being Ari Magder with forty-one.
She appeared in episode 2 of the "Train of Thought" podcast that was meant to act as a reunion for the cast and crew of Shining Time Station.
Gallery