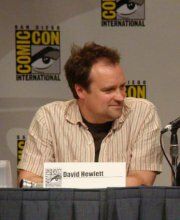 David Hewlett (born on April 18, 1968 in Redhill, Surrey, England, United Kingdom) is a English-born Canadian actor, writer, and director most famous for his role in the "Stargate" sci-fi series. He has appeared in numerous movies including "Rise of the Planet of the Apes", "Ice Men", "Cube", "The Whistleblower" and "The Boys of St. Vincent: 15 Years Later".
He played Ted Typo in Shining Time Station.
His last name was misspelled in the end credits as Hewl'i'tt. This also happened in another television series.
Trivia
He, Tom Jackson, William Colgate, Ardon Bess and Doug Lennox all had roles in "The Campbells".
He, Neil Crone, Peter Wildman, Richard McMillan and Marium Carvell all had roles in "Murdoch Mysteries". Steve Wright also directed episodes for the show.
He, Lori Hallier, Chantellese Kent, Eric Fink, Andrew Sardella, Colin Fox, Colin O'Meara, Colm Feore, Elizabeth Hanna, Barbara Hamilton, Judy Marshak, Jayne Eastwood, Peter Van Wart, Susan Stackhouse, Ron Gabriel, Marium Carvell, Tom Jackson, Ardon Bess, William Colgate, Peter Wildman, and Doug Lennox have all had roles in "Street Legal".
External Links