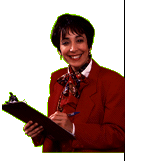 Didi Conn (born Edith Bernstein on July 13, 1951 in Brooklyn, New York City, New York, USA) is an American actress who portrayed Stacy Jones in Thomas and the Magic Railroad and Shining Time Station. She also played Gracie Jones.
Amongst other roles, she also appeared in the musical movie "Grease" and its sequel "Grease 2" as Frenchy and in the TV sitcom "Benson" as Denise Stevens Downey. She also made a cameo as Vi in "Grease Live!", a musical based on Grease.
She is the only cast member from the original Shining Time Station series to reprise her role in Thomas and the Magic Railroad.
She is married to David Shire. She is also the older sister of Richard Bernstein.
Trivia
Gallery