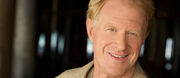 Ed Begley, Jr. (born, Edward James Begley Junior, on September 16, 1949 in Los Angeles, California, USA) is an American actor and environmentalist. He played Ned Kincaid and Ned Kincaid's Great-grandson in Once Upon a Time.
He has appeared in many films and television shows since 1967.
Television credits include: "St. Elsewhere", "7th Heaven", "Parenthood", "Battlestar Gallactica", "Laverne and Shirley" and "Touched By An Angel".
Trivia
External Links