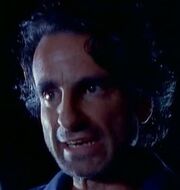 Eric Fink (born on December 25, 1955 in Ontario, Canada) is a Canadian actor.
He played a Delivery Guy in the Shining Time Station episode, Schemer's Alone.
Trivia
He, Erica Luttrell, Jayne Eastwood, Jared Wall, Andrew Sardella, Bucky Hill, Neil Crone, Michael Polley and Colin Fox all had roles in "Goosebumps".
He, Barbara Hamilton, Judy Marshak, Colin O'Meara, Peter Van Wart and Michael Polley all had roles in "Road to Avonlea".
He and Andrew Sardella both had roles in "Are You Afraid of the Dark?".
He and Jonathan Shapiro both had roles in "Due South".
He and Myra Fried both had roles in "The Dream Team".