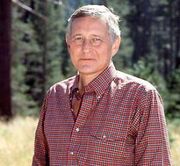 George Henson Page (born on March 31, 1935 in Hartwell, Georgia, USA - died on June 28, 2006 in Equinunk, Pennsylvania, USA) was an American television host, journalist and producer who was known for his love for nature and his unique and mellifluous voice. He created the PBS series "Nature", and hosted and narrated it from its beginning in 1982 to his retirement in 1998. He was also the director of Science and Natural History Programming at the PBS station Thirteen/WNET. Before his time with PBS, Page had a long career in broadcast journalism, mostly at NBC News. In 1990, Emory University, the school Page had graduated from in 1957, awarded him with the honorary degree Doctor of Humane Letters, citing his "contributions to science education in the United States". He narrated A Day in the Life of The Jukebox Band in the same style as his documentary programs.
In May 1995, Page was awarded another honorary degree from Pace University, for helping television viewers "understand and celebrate in all its diversity the world in which we live." George Page died June 28, 2006 in Equinunk, Pennsylvania due to cancer.
Community content is available under
CC-BY-SA
unless otherwise noted.