Line 8:
Line 8:
 

* He, [[Wayne Moss]] and [[Myra Fried]] all worked on "Fraggle Rock".

 

* He, [[Wayne Moss]] and [[Myra Fried]] all worked on "Fraggle Rock".

 

* He, [[Larry Reynolds]] and [[Barbara Hamilton]] all had roles in "Playdate".

 

* He, [[Larry Reynolds]] and [[Barbara Hamilton]] all had roles in "Playdate".

 
+

* He was a guest star in [[Rick Siggelkow]]'s other show Noddy

 
 
 

==Gallery==

 

==Gallery==
---
Latest revision as of 17:13, 6 May 2020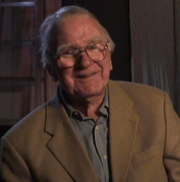 Gerard "Gerry" Parkes, (born on October 16, 1924 in Dublin, Ireland – died on October 19, 2014 in Toronto, Ontario, Canada) was an Irish-born Canadian actor who played Barton Winslow in Shining Time Station.
Career
Parkes was born in Dublin, Ireland in 1924 and moved to Canada in 1956. His acting career has spanned film, radio, television and stage. Parkes worked on CBC radio, beginning in 1959 and shifted into television and film. In 1968, Parkes won the first Canadian film award (then called the Etrog and now known as the Gemini) for his portrayal of Uncle Matthew in the movie "Isabel". He also received the Andrew Allan Award in 1983 for best radio actor. He is probably best known for the role of "Doc" in the American version of "Jim Henson's Fraggle Rock" from 1983-1987 and as Barton Winslow in Shining Time Station. Gerard unfortunately passed away on October 19, 2014 at the age of 90.
Trivia
Gallery
Community content is available under
CC-BY-SA
unless otherwise noted.