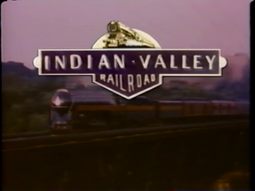 The Indian Valley Railroad (abbreviated as IVRR) is a railroad company owned by J.B. King, of which Shining Time is a part of.
Route
The Indian Valley Railroad is said to run from Big City to Pelican Falls stopping at Lucy's Leap, Fort Farley, Snarleyville, Cloggyville, Buttertown, Spotsville, Waddley, Farmer's Dell, Twiddly Junction, Doodle Haven, Muffle Mountain, Dillylick, Chubby Corners, Leaky Park, and of course, Shining Time Station.
Employees
Current (as of TATMR)
Former
Unknown
Locomotives
The locomotives that have been seen on the Indian Valley Railroad in the Shining Time Station are the UP 844 (which has been named as the Rainbow Sun), N&W 611 (which has been named as the Rainbow Tiger), Reading 2101 (which has been named as the President's Train) and SP 4449 "Daylight" (which has been the Sunset Flyer).
In Thomas and the Magic Railroad, the Strasburg Railroad's ex-N&W locomotive #475 was given the role of the Rainbow Sun. The tender and three of the Strasburg Railroad's coaches were relettered "INDIAN VALLEY" for the film, although only two coaches ended up being used. The coaches retained this lettering for quite some time after filming had been completed.
In 'Tis A Gift, the Rainbow Sun was briefly played by Grand Canyon Railway's ex-Lake Superior & Ishpeming locomotive #18.
In Real Life
By pure coincidence, there was a real Indian Valley Railroad. A railroad was built from the town of Paxton, California to the Engels Copper Mines, which were the largest copper mines in California. The line was run by two ex-D&RGW locomotives with two freight cars and one passenger car. The line was shut down in 1938 due to lack of traffic and the declining value of copper. There was also a real Indian Valley where the copper mines were located.
Gallery