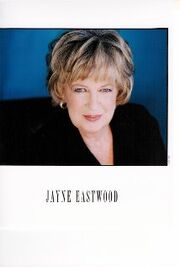 Jayne Eastwood (born on December 17, 1946 in Toronto, Ontario, Canada), also credited as Jane Easton or Jane Eastwood, is a Canadian actress.
She has starred in many Canadian and American media including, "Finders Keepers", "The Care Bears Movie", "The Santa Clause", "My Big Fat Greek Wedding", "Hairspray", "Twitches Too", "The National Tree", "Harriett the Spy: Blog Wars", and "Beethoven's Treasure Tale" and many TV shows including, "The Noddy Shop" "JoJo's Circus", "Babar and the Adventures of Badu", "Goosebumps" and "Little Mosque on the Prairie"
She played Doris "Helga" Boonswaddle in the Shining Time Station episode, Bad Luck Day at Shining Time Station and Jayne in the Schemer Presents! episode, How to Apologize.
Trivia
She, Erica Luttrell, Andrew Sardella, Jared Wall, Bucky Hill, Michael Polley, Colin Fox, Neil Crone, Richard McMillan and Eric Fink all had roles in "Goosebumps".

She, Wall and Polley appeared in the same episode.

She and Susan Roman both had roles in "The Care Bears Family".
She and Neil Crone both had roles in the 2007 film, "Hairspray".
She, Neil Crone, Tom Jackson and Peter Wildman all had roles in the TV series "Little Mosque on the Prairie".
She, Elizabeth Hanna, Judy Marshak, Ari Magder, Colin O'Meara and Colin Fox all had roles in "Tales from the Cryptkeeper".
She, Jill Golick, Jayne Harris Schipper, Rick Siggelkow, Brian McConnachie, Wayne Moss, Julia Weinstein, Stacey Hersh, Peter Wildman and Neil Crone all worked on "Noddy Shop".
She and Michael Lamport both has roles in "A.L.F." and "A.L.F. Tales".
External Link