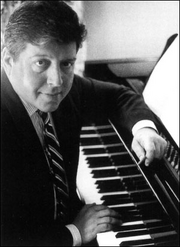 Joe Raposo (born, Joseph Guilherme Raposo on February 8th, 1937 in Falls River, Massachusetts, USA - died on February 5th, 1989 in Bronxville, New York, USA) was a Portuguese-American composer, songwriter, pianist, television writer, and lyricist.
He wrote the theme song for Shining Time Station. He was best known for his work on "Sesame Street" which Raposo also wrote the theme song for, he also wrote one of the show's most famous songs One of These Things (Is Not Like the Other). He also wrote music for "The Electric Company", "Three's Company" and "The Ropers".
Raposo passed away the same day Does It Bite? aired.
He also sang and wrote a few songs for the series, including Learn From Your Mistakes.
Raposo was born in Fall Rivers, Massachusetts and died in Bronxville, New York of non-Hodgkins lymphona. Raposo was buried at Union Cemetery in Chatham, Massachusetts.
Community content is available under
CC-BY-SA
unless otherwise noted.