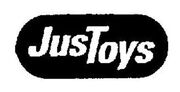 JusToys is a toy company that made bendable toys (Bend-Ems) based on Thomas the Tank Engine and various other children's properties. In 1993, these were released in the US within the Shining Time Station range of merchandise. The slogan was "Bendable, Poseable, Collectible".
Other licensed properties used include Mickey Mouse, Star Wars, and WWF.
Bendems
Singles
Notice: Dan, Becky and Kara are the only characters who didn't get bendable toy collectables made. 
Gift Sets
Five Piece Jukebox Band Gift Set - includes Tito, DiDi, Grace, Tex and Rex
Gallery
External Links