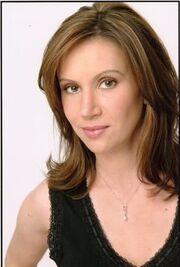 Larissa Laskin, known previously as, Larissa Lapchinski, is an American actress who played a passenger in the Shining Time Station episode, Washout.
The role was her first ever acting role.
Trivia
She, Lori Hallier, Doug Lennox, Larry Reynolds, Andrew Sardella, Eric Fink, Colin Fox, Colin O'Meara, Colm Feore, Susan Stackhouse, Kevin Frank, Marium Carvell, Tom Jackson, Judy Marshak, Jayne Eastwood, Ardon Bess, Barbara Hamilton, Chantellese Kent, Ron Gabriel, Peter Wildman, Elizabeth Hanna, Peter Van Wart, David Hewlett, and William Colgate have all had roles in "Street Legal".
External Link