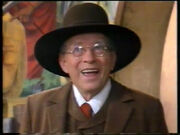 Larry Reynolds (born 1939, in Brockport, New York, USA - died on March 14, 1996 in Orangeville, Ontario, Canada) was an American-Canadian actor.
He started acting in 1958 at the age of 19.
He has appeared in such films as "My Side of the Mountain" and "Blown Away".
He played Older Emmett in the third season episode, How the Station Got Its Name.
Trivia
He, Gerry Parkes and Barbara Hamilton all had roles in "Playdate".
He, Andrew Sardella, Ron Gabriel, Tom Jackson, Colin Fox, David Hewlett, William Colgate, Larissa Laskin, Jayne Eastwood, Ardon Bess, Peter Wildman, Kevin Frank, Peter Van Wart, Barbara Hamilton, Elizabeth Hanna, Chantellese Kent, Susan Stackhouse, Judy Marshak, Marium Carvell, Lori Hallier, Colm Feore, Colin O'Meara, Eric Fink and Doug Lennox all had roles in "Street Legal".