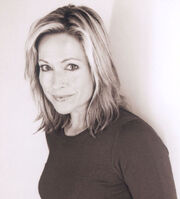 Lori Hallier (born on July 8, 1959 in Victoria, British Columbia, Canada) is a Canadian actress who played Mrs. Stone in Thomas and the Magic Railroad.
She has appeared in many films including, "Night of the Twisters", "The Other Me", "Christmas with Holly" and "Flower Shop Mystery: Mum's the Word".
Trivia
She and Doug Lennox both had roles in "Honey, I Shrunk the Kids: The TV Show".
She, Colin Fox, Elizabeth Hanna and Doug Lennox all had in "Alfred Hitchcock Presents".
She, Kevin Frank, Colm Feore, David Hewlett, Peter Van Wart, Colin O'Meara, Susan Stackhouse, Eric Fink, Tom Jackson, Marium Carvell, Chantellese Kent, Peter Wildman, Larry Reynolds, Ardon Bess, Barbara Hamilton, William Colgate, Larissa Laskin, Judy Marshak, Jayne Eastwood, Andrew Sardella, Ron Gabriel, Elizabeth Hanna and Doug Lennox all had roles in "Street Legal".
External Link
Role