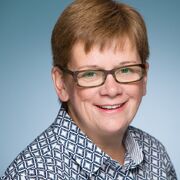 Nancy Chapelle is an award-winning Canadian film and television producer.
She co-founded Catalyst Entertainment in 1990.
She was a producer for Shining Time Station and an executive producer for Thomas and the Magic Railroad.
Shining Time Station
She was line producer for 'Tis A Gift. She became the main producer following Britt Allcroft and Rick Siggelkow becoming executive producers for the second and third seasons, Schemer Presents! and the Family Specials.
She along with, Allcroft and Siggelkow co-produced The Jukebox Band (series).
She and Jim Corston co-produced the last two family specials.
Career
She began her career as a producer in 1987 and started working on Shining Time Station in 1990 and worked on the series and its spin-offs until their end. She co-founded Catalyst Entertainment Inc. in 1990 and worked for the company from 1990 until 2002. She was the President, Chief Operating Officer (COO), Senior Vice President and Managing Director, Group head of Production.
In 2003 she began to work for TVO, a Canadian TV channel. She worked with them from 2003 until 2014. In 2015 she began to work with the Bell Fund as executive director.
Awards
Gemini Award – Best Children's Series, "Shining Time Station", 1993
Rookie Award – Best English Language Children Program, "I Was A Rat", 2002
Trivia
She, Wilson Coneybeare and Jim Corston all worked on "Timeblazers".
According to IMDB, Nancy's last project as a producer was for "Fast Food High", which was released in 2003.
External Links