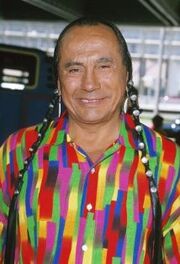 Russell Means (born, Russell Charles Means on November 10, 1939 in Pine Ridge Indian Reservation, South Dakota, USA - died on October 22, 2012 in Porcupine, South Dakota, USA) was a Native American Oglala Lakota activist for the rights of Native America people, libertarian political activist and actor. He who played Billy Twofeathers in Thomas and the Magic Railroad.
He passed away in October 2012, after a lengthy battle of esophageal cancer, a month before his seventy-third birthday. Britt Allcroft paid tribute to him on Facebook the day after his death.
Trivia
External Link
Community content is available under
CC-BY-SA
unless otherwise noted.