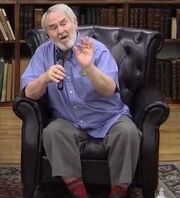 Sean Kelly was an episode writer for Shining Time Station and Mr. Conductor's Thomas Tales.
He has worked on other shows like "The Magic School Bus", "Ace Lightening", "Young People's Concerts", and "Goosebumps". He is most known for his work on "National Lampoon". He also won an Emmy award in 2004 for his work on the show "Between the Lions".
He wrote eight episodes and two specials for Shining Time Station. He also wrote all six episodes of Mr. Conductor's Thomas Tales and both episodes of The Jukebox Band (series).
Episodes Written
Trivia
External Link