"Everything you want in a store and a whole lot more!"
— The general store's tagline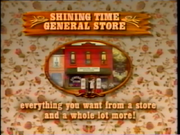 Shining Time General Store is a store located in Shining Time at the corner of Butternut and Main Streets. Barton Winslow is the owner and operator. No interior scenes of the actual building were ever filmed, although a picture of its exterior was only shown in an advertisement.
Trivia
Gallery