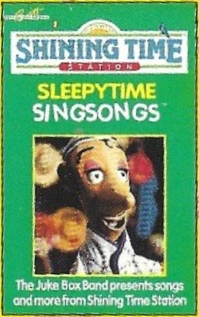 Sleepytime Singsongs is a Shining Time Station cassette tape featuring thirteen songs from the television series.
Plot
Side 1
The Jukebox Radio presents "The Night Light Show", a special late-night program part of Jukebox Radio dedicated to helping children fall asleep. Tito, DiDi, Tex and Rex present various gentle songs, while Tito keeps falling asleep between sets. During a sponsor break, Tex and Rex present "Tex and Rex's Puffy Pillows for a Perfect Slumber", but Rex struggles to fall asleep. DiDi and Tito try to help Rex fall asleep with lullabies, but while Tex falls asleep, Rex is wide awake. JJ Silvers suddenly calls in to the show, believing he has the cure for Rex's sleeping problem.
Side 2
JJ Silvers arrives at the studio and puts Rex into an impromptu game show called "Sleepy Thoughts", where he asks questions about going to bed at night. DiDi tries another lullaby, which helps Rex become sleepy but irritates JJ Silvers. Tito's song manages to put DiDi and JJ Silvers to sleep, but Rex is wide wake. Tito sings one more song, and Rex finally falls asleep. As the last one awake, Tito sings a lullaby to himself and the audience before the program signs off.
Characters
Songs
Side 1
Side 2
Gallery
Community content is available under
CC-BY-SA
unless otherwise noted.