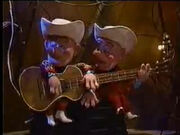 Tex and Rex are identical and inseparable twins who remain cowboys at heart. They are the main guitarists for the Jukebox Band, noted for playing a single guitar with Rex doing the strumming and rarely playing the harmonica, and Tex handling the notes and chords on the fret.
Appearances
Performers
Tex
Rex
Singing voice
Trivia
In the episode Sweet and Sour, Rex and Tex say that their first job was in a bank's radio.
They also had a job in a music box with a cowgirl ballerina as seen in the episode Billy's Runaway Train.
Gallery
Shining Time Station
Merchandise