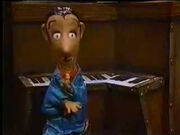 Tito Swing is the de-facto leader of The Jukebox Band, and is known to be a master of all keyboard instruments, a composer and conductor. He was performed and voiced by Jonathan Freeman.
Bio
Tito's favorite songs are from the 40s and 50s. Tito's obsession for collecting nickels rivals and perhaps surpasses that of Schemer's, who is at the loss to explain where all the coins inserted into the jukebox disappear to. We know of course that it's into Tito's nickel collection that is stored safely in the "vault"! Tito's joy us to count up the nickels at the end of a day's gig -- the more the better! Tito himself said that he first began collecting nickels in 1957 during his first gig when his manager to him to "take five", and he's being doing so ever since! He also bears a strong resemblance to his mother. Tito's adeptness for playing keyboard instruments began at an early age when his mother insisted that he practice his piano lessons.
Persona
Tito is kind and a master of all keyboard instruments, a composer and a conductor. Like Schemer, Tito has an obsession with nickels.
Appearances
Trivia
Tito's voice actor, Jonathan Freeman, also voiced Jafar in the 1992 Disney film Aladdin.
When he was little the hat that he wore in Win, Lose or Draw is the same one that Buster wears but the crown parts are yellow while Buster's are brown.
Gallery