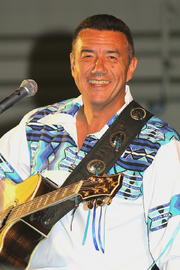 Tom Jackson (born Thomas Dale Jackson on October 27, 1948 in One Arrow Reserve, Saskatchewan, Canada) is a Canadian-Cree actor and singer.
He has appeared in many television shows including, "Little Mosque on the Prairie", "Law and Order: Criminal Intent", "North of 60", "Star Trek: The Next Generation" and "Street Legal". He also has appeared in films, "Mee-She: The Water Giant", "Grizzly Falls" and "Skinwalkers". He also the Chancellor of Trent University in Peterborough, Ontario.
He played Billy Twofeathers and William Twofeathers in Shining Time Station. Russell Means later took up the role in Thomas and the Magic Railroad.
Trivia
He, Neil Crone, Peter Wildman and Jayne Eastwood all had roles in "Little Mosque on the Prairie".
He, Ardon Bess, William Colgate, Doug Lennox and David Hewlett all had roles in "The Campbells".
He, Andrew Sardella, William Colgate, Colin Fox, Doug Lennox, David Hewlett, Peter Wildman, Kevin Frank, Colin O'Meara, Peter Van Wart, Ardon Bess, Colm Feore, Eric Fink, Jayne Eastwood, Larissa Laskin, Barbara Hamilton, Susan Stackhouse, Judy Marshak, Chantellese Kent, Elizabeth Hanna, Marium Carvell, and Lori Hallier all had roles in "Street Legal".
External Link